Thank You
"I thank my God every time I remember you."  Philippians 1:3
We at Calvary Christian School are truly thankful for each one of our generous supporters!  It is because of your faithfulness that we are able to continue in our efforts to "train children in the way they should go."
Thanks to the RVICS for their work and fellowship at Calvary!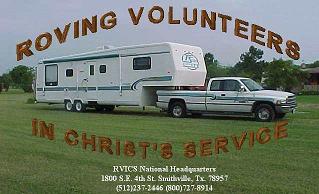 The RVICS have come to CCS eight times over the past several years and given freely of time and labor.  They have built sidewalk covers, playground equipment, roofs, and classrooms.  They have painted, substituted, tutored, and much more!  We are truly indebted to them for all they have done and love them dearly!  When you have a chance, be sure to let them know how much you appreciate them, too! To find out more about the RVICS, visit their website at: www.rvics.com.
Many thanks to the generous supporters of our sports programs!
Thank you to all the members of the Calvary Parents Association (CPA) for all your hard work!
Thanks to Moms In Touch for praying for our students and school!
We appreciate each and every volunteer here at CCS. In the office, the lunchroom, the library, and the classrooms, your hard work and service to the Lord truly make a difference in the lives of our students. Thank you!